Open Menu
Open Menu
Cart
Search
DealCart's Makeover - Case Study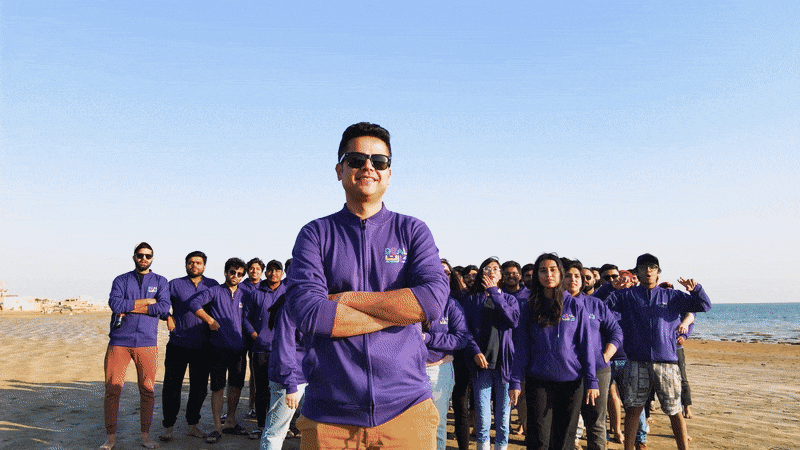 We recently unveiled a refreshed version of DealCart DC 2.0 to our user base and followers. It may sound simple, but it's actually a wild ride full of twists and turns. And when you're dealing with a brand that touches the lives of over 15 million fabulously frugal folks in Karachi and over 120 million all across Pakistan, it's extra special. Because now over 120 million Pakistanis can score sweet deals on their daily must-haves in a more fun and engaging way. Let the savings begin!
---
Currently, we are only operating in Karachi, but we have plans to expand to other cities in the near future.
---
Why mess with a good thing, right? That's exactly what we asked ourselves before embarking on our brand refresh journey. Our trusty logo, the marriage of 'Deal' and 'Cart' had served us well for a solid year. But let's face it, a logo is just a tiny miny tip of the branding iceberg. We believe that there's always room for improvement, evolution, and a little bit of fun. The digital world is evolving and so are our users, so it only makes sense that our brand evolves with it. So It was time for a change ;) 
But we did not start from scratch here. We just gave our current branding a little TLC to make it more playful, memorable, and consistent across all our products and marketing channels. As a young company, we have the advantage of taking a step back, reflecting, and making the necessary tweaks to be the best at what we do.
DealCart initially took a different approach when they launched a year back compared to other startups. Before entering the market, they thoroughly validated their idea and found the ideal fit between their product and target audience. They launched with a brand identity (DC 1.0) they felt was sufficient at the time and it proved to be a successful strategy and that gave us a good starting point as well.
During our research, we engaged in customer interviews, analyzed digital data, and conducted market research to understand what our users think about our old brand identity. This process identified two key challenges with our current branding:
Our customers had a strong attachment to our old branding, despite its technical limitations. A complete brand overhaul would have resulted in a dilution of brand recognition and would require significant investment in user re-education. However, our research showed that enhancing the existing identity, which customers had a positive association with, was the optimal strategy.
The second challenge was the need to refresh not just our logo but all customer-facing platforms, such as our app. This necessitated the creation of coherency, consistency, and scalability within our visual identity system, which would be applied across all products and services under DealCart's umbrella.


---
The beginning
---
Our mission was simple:
Enable first-time internet users to save money on their groceries in a simple and engaging way so that they can invest their savings in a better future.
When we first set out on this journey, our questions to both colleagues and customers led us in all sorts of directions. Some wanted to "promote affordable living" while others sought to "create a platform for SEC B & C users". And let's not forget the goal to "reinvent e-commerce for first-time internet shoppers." Our ambition was grand, with the "aim to impact over 120 million lives and make online shopping a social experience". But amidst the flurry of ideas, we knew we had to find our focus. And that's exactly what we did.
The road to rebranding wasn't always easy, but we kept our end goal in mind. It's tempting to fall in love with flashy colors and logos, but what really matters is staying true to the essence of the brand. We distilled our brand's DNA into four keywords:
Humility, Affordable, Reliable, and Obsessed.
2. The Makeover 💇💅🏻👸
2a. Logo Refresh
The first step in our journey was to tackle the structural issues in our wordmark. We wanted to balance out the weight and soften the edges, giving our brand a more rounded and harmonious feel. With DealCart being a bilingual brand, finding the right composition was not as easy, but we ultimately decided to use a single shape to build the entire logo.
One of the challenges we faced during our rebranding efforts was the need for scalability. To achieve this, we developed a comprehensive design system that covers every detail, from iconography to layout compositions, patterns, and illustrations. Our shape elements serve as a versatile building block, allowing for infinite design possibilities. They can be used as decorative elements, image containers, or even as a basis for creating new shapes. Our aim is to provide a flexible and adaptable brand identity that can grow and evolve with the needs of the business
Next up was introducing a playful logo mark that would complement the logo and bring a touch of fun to our brand. Keeping our brand fresh and festive was a top priority! After trying out countless variations, we realized that the same shape used for the wordmark could be used to build the logo mark, too! We took the "D" and "C" from the word DealCart and created a logo mark that combined Deal and Cart, while also serving a functional purpose.
Our logo's signature arc, aka the Happy Arc, represents the joy we try to bring to our users' daily lives. We're all about spreading smiles ;)
2b. Getting the colors right
Our research showed that customers loved our current use of multiple colors. We wanted to preserve the classic charm of our logo while giving it a fresh and modern twist. To achieve this, we opted for a more vibrant tetradic color palette featuring saturated hues of the original colors, with indigo blue taking the lead as the primary color.
Meanwhile, purple has been relegated to the role of tertiary color. These tertiary colors are put to good use in decorative elements and internal communications, ensuring a seamless representation of our brand. Our color strategy strikes a balance between aesthetics and practicality and will surely allow us to make the most of our new and existing branding assets.
The brand's color palette consists of vibrant hues that are easily recognizable and aid in creating a distinctive identity. 
The usage of these colors is commonly found in local markets, signboards, clothing, automobiles, festivities, and home decor, and are deeply ingrained in our culture, making them easily relatable to people.
2c. The Quest for the Perfect Typeface!
Our journey to revamp our brand identity couldn't be complete without finalizing the perfect typeface. After scouring the font world and evaluating different options, we struck gold with the Poppins typeface! This geometric sans serif typeface added the missing piece to our brand puzzle with its versatility, consistency, visual appeal, and readability. It aligns with our brand's DNA of confidence and clarity, making it the ideal typeface to use across all our platforms.
3. The Final Reveal: DC 2.0
And there you have it, folks! After much finessing and shaping, we are proud to present to you DC 2.0, a refreshed brand that embodies our purpose of enabling first-time internet users to save money on their groceries in a simple and engaging way. While the logo may be the face of our brand, it's the visual elements like color, shapes, patterns, and photography that complete the picture. These elements, when used consistently and repetitively, convey meaning and establish recognition for DealCart. From social media posts to our mobile app, our brand system is applied everywhere, ensuring a cohesive and recognizable brand experience for our customers. So sit back, grab a cart, and join us on this exciting journey!
And The Journey Continues
Our brand redesign journey has just begun and we're excited about what's in store. The real test starts now as we apply our brand system to real-world marketing, product, and corporate situations. We're eager to see how our brand message resonates with our customers, partners, and prospects, and how our brand will evolve over time. The change is what makes this journey fun and we're confident that our future is bright, with a solid foundation to better represent who we are as a brand.


Two cents for DealCart.
DealCart is a truly remarkable workplace, founded by two incredibly talented young alumni from Careem - Ammar Naveed & Haider Raza. They are the dynamic duo behind this incredible success story!
The entire team shares the same passion and drive as the co-founders, and even though I may not quite have the same level of hustle, I have had the opportunity to work alongside them at Careem as well, and the same energy and drive still exist at DealCart.
I'm truly honored to be a part of this dynamic team!
And Lastly
The team, who worked tirelessly and made this all come together, deserves a special shoutout.
Asad Malik who was the driving force behind our product used a design thinking strategy and provided us with invaluable data to make informed decisions.
Amna Kara who was the star of the brand revamp, helped us understand our customers' needs and has been a true advocate for them.
Usman Munier was always open to new ideas and made accommodations to roll out a brand-new product in just 38 days.
Muhammad Salman and his marketing team including Laiba Jamil, Rushna Farrukh, and Mohammad Hasan, made the execution possible.
The product team, including Abdul Moeed, Waqas Ahmad Jan, Sayed Ahmed Hussain, Omar Asim, Muhammad Asim Khaskheli, Mohammad Danial Nadeem, Tanzila Asim Zafar, and Mehak Naveed, worked tirelessly to bring the product to life.
Fahid Bhatti Altamash Khuwaja for bringing all of this together.
The engineering team, including Muhammad Saad Qadeer, Zain, Arsalan, and all the other members, brought this project to fruition in record time.
Ammar Naveed & Haider Raza trusted us with their baby brand and allowed us to experiment.
And last but not least, our customers, who make it all worth it with their interactions and feedback on social media and the play store.
To all those who have directly or indirectly contributed to this achievement, thank you. This would not have been possible without your efforts. Kudos to all of you! 👏👏👏
Share this story
Similar Stories
Subscribe to stay connected
Subscribe to recieve DealCart newsletters, product updates and offers
Thank you for subscribing to our newsletter!